The Internet of Things can now be considered a mature technology with a multitude of options both in terms of connectivity , hardware and use cases already available on the market. 2019 was an exceptional year for the IoT , which experienced higher than expected growth in terms of connected devices. In fact, according to IoT Analytics, active IoT devices reached 9.5 billion in 2019 much more than the 8.3 billion previously estimated.
That the IoT is a leading sector is also attested by other very positive data, such as its penetration within companies. Vodafone highlghts that today more than one-third of companies use IoT solutions to optimize processes, reduce operating costs, improve data collection, create new revenue streams or increase revenue from existing ones. It's also interesting to notice that very often these companies prefer to buy off the shelf solutions rather than developing their own ones in-house.
McKinsey&Company predicts that, by 2025, the overall economic impact of the IoT could reach $11.1 trillion, surpassing sectors such as "Mobile Internet", "Automation of knowledge work" and "Cloud technology".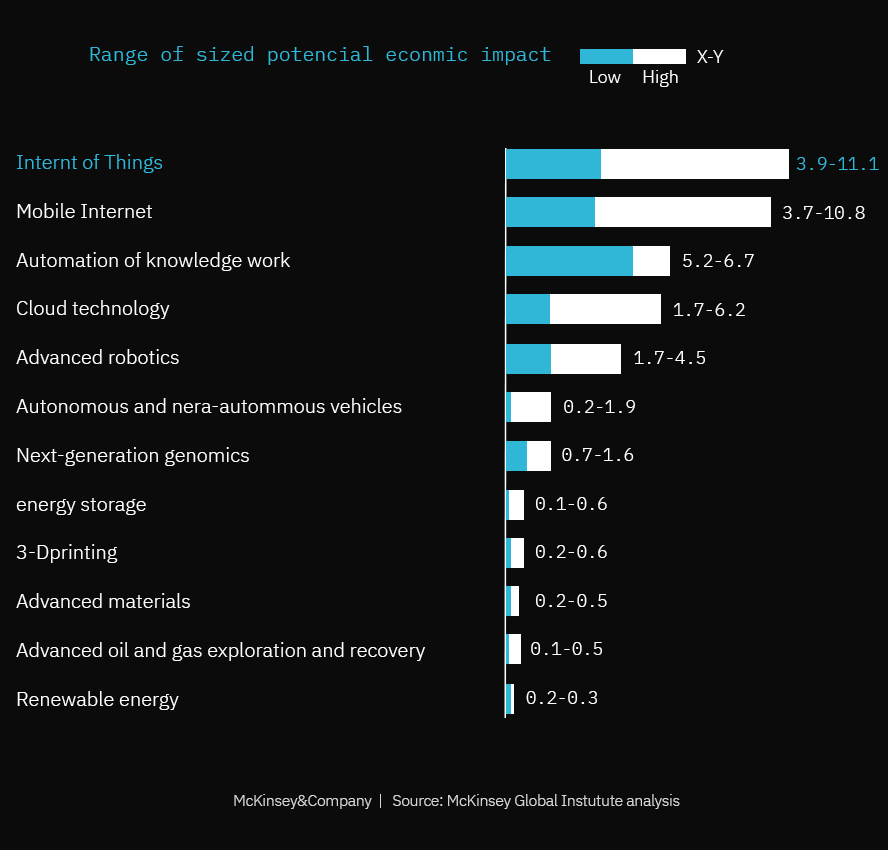 There is no doubt, therefore, that 2020 has opened up under the best possible auspices and that there will be plenty of opportunities for growth for all players in the sector.
The TOP 10 IoT trends
We have gathered the top 10 trends identified by experts and observing the major venture capital operations that have involved the IoT sector during the last year. Here is what we discovered: