Another year comes to an end, and it is time to take stock, for us at LORIOT it has been another excellent year.

The entire IoT market had unfortunately been disrupted by the ongoing COVID-19 pandemic and the resulting hardware shortages. These two factors have undoubtedly impacted overall growth, which have had to be revised downwards compared to the estimates made at the beginning of the year.

According to IoT Analytics growth is going to hit +9% in terms of connected endpoints that will reach 12.3 million. Also the LPWAN sector, which is our main area of concern, continued to grow in 2021 and is estimated to reach 2 million connected devices, up almost 13.5% from the previous year.

As no surprise to the market, LoRaWAN continues to play a leading role among the various technologies in this segment, contending for leadership with NB-IoT, whose growth is being driven by strong adoption, mainly in China.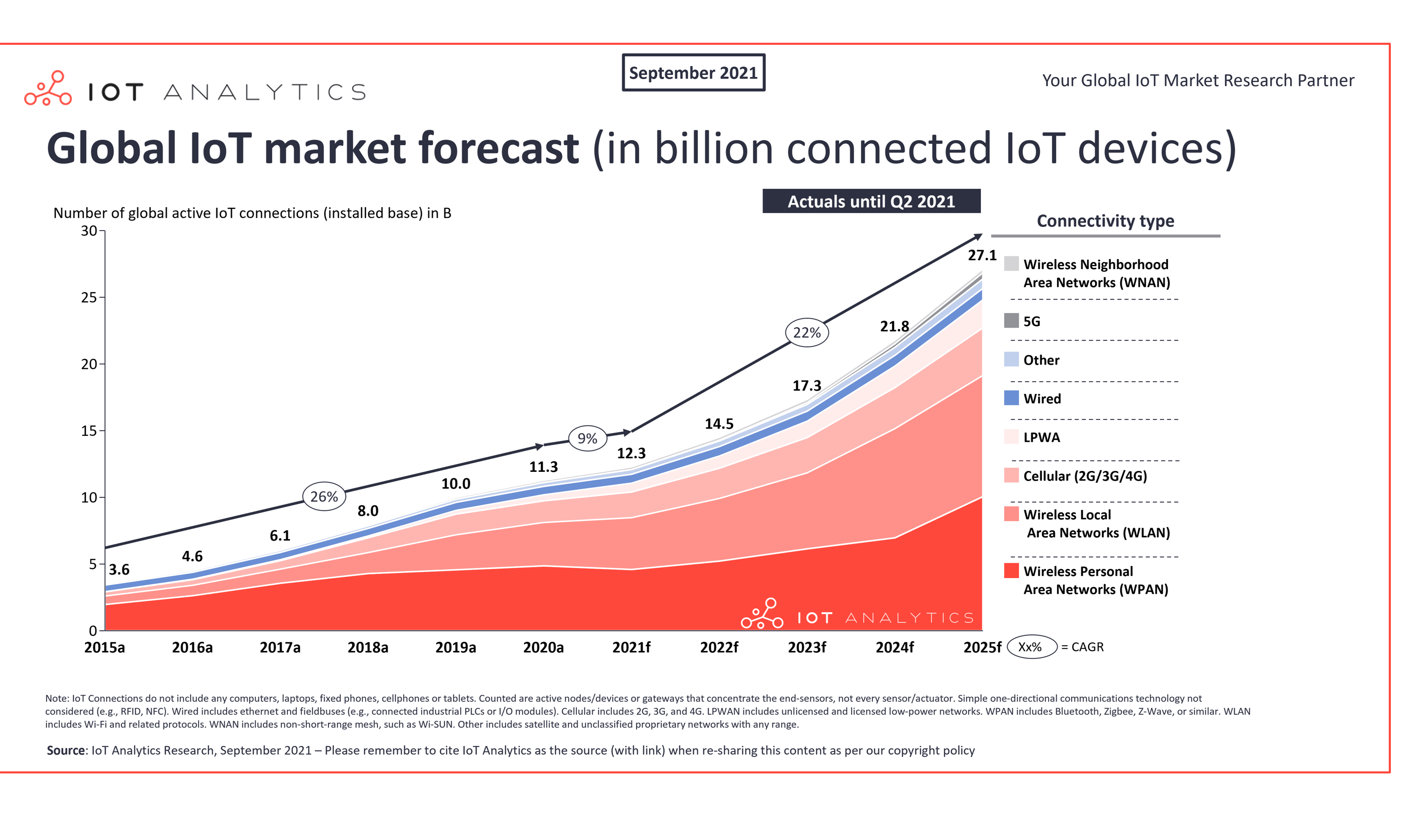 It is recent positive news the LoRaWAN protocol has been recognised as an international standard communication protocol for IoT by the United Nations. This news is particularly relevant, as before LoRaWAN was approved by the UN's International Telecommunication Union (ITU), there had been no international standard for Long Range technologies. Credit for this achievement must go to the LoRa Alliance for its hard work, commitment to the ecosystem, and execution of full interoperability.

On the other hand, looking at the market from our favourable standpoint, we have an early perspective on the new technologies emerging some which are very exciting to enable specific use-cases. We will soon present some great news in relation to supporting new technologies we have been developing for release in 2022.

We believe that technology, and IoT, has the potential to solve many challenges of our time and we have made it our mission to enable this potential with a technology-agnostic approach and focusing on making IoT accessible, secure and scalable.

This has always been, and will forever be, our daily commitment.



A few numbers
While in 2020 we witnessed a slowdown in growth, but still better than expected all things considered (mainly the pandemic pausing many projects), this year we have seen many projects start (or restart) with a bang and in some sectors, such as building solutions, gain new momentum driven by the new health and social distancing requirements.

With regards to 2021, I am very proud to share that we have doubled our growth over the previous year, and the outlook for the next already looks to be accelerating further.

But this is not the only outcome we are valuing, we also reflect on the expansion of our services, our infrastructure for clients and the connected devices that bring value through it to the world.

Starting with our public infrastructure, this year we have further expanded and deployed a new public server dedicated to the Israeli market following the opening of LoRaWAN® frequencies in Israel by the Ministry of Communications. The market was quick to respond, and the new accounts on this server have contributed to the growth of our global user base with a total of over 3'000 new users registered this year. During the same period the enterprise customers utilizing our professional public servers also grew by 60%.
Most of all, our private network deployments grew by 55%, signifying that private network server deployments remain a key requirement for our customers end clients. Of this, 35% was the growth in connected devices to our infrastructure, 2.5 times faster than the LPWAN market and 3.5 times faster than the IoT market as a whole!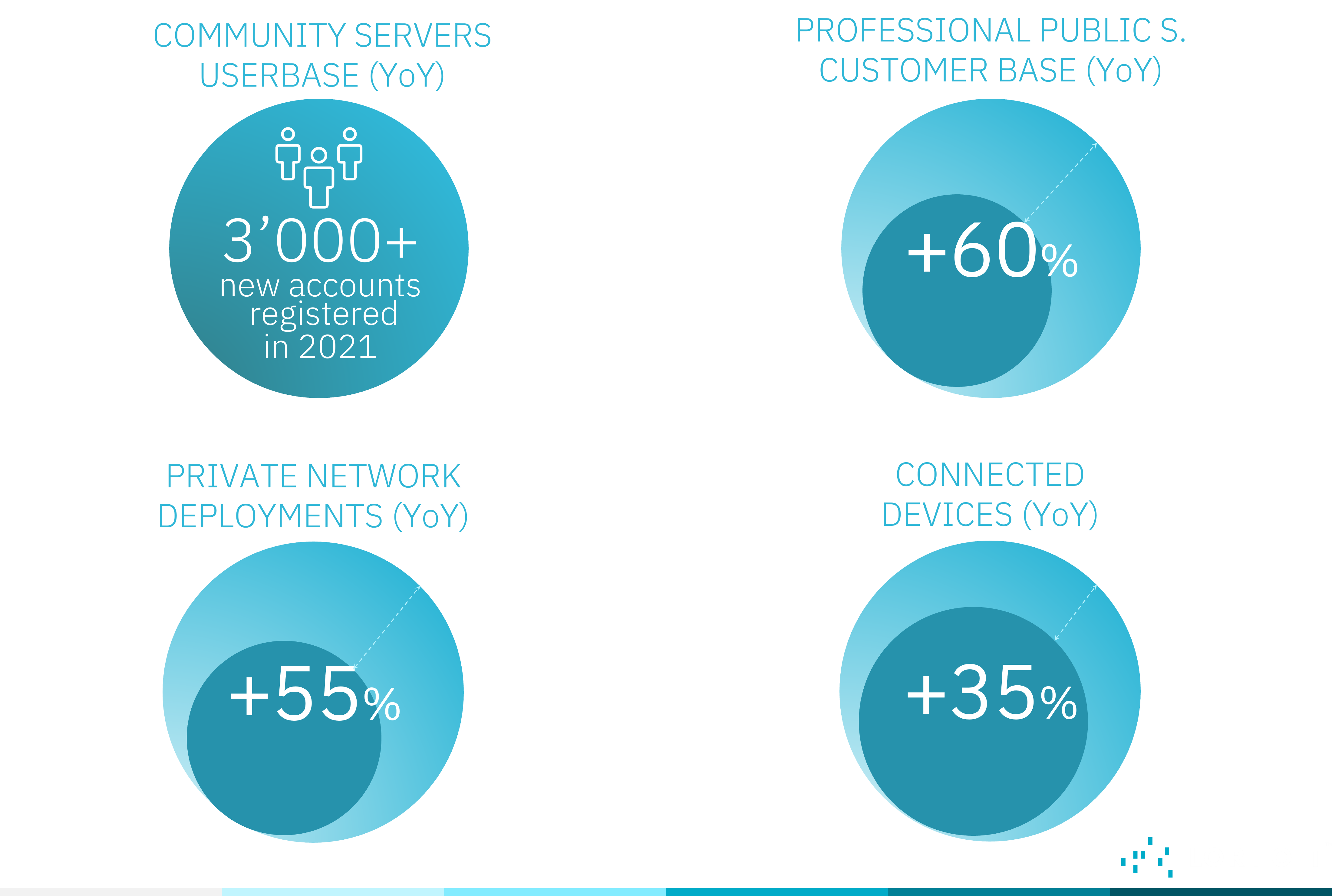 Meanwhile, and despite our growth, the number of support tickets generated by our customers dropped by 3.6% after a further reduction in 2020 of -8.6%. This shows that the reliability and usability of our solution are improving with every release, but also that over time, the know-how of the market is improving. We aim to contribute to educating new entries to the market with our workshops, webinars, an extensive knowledge base and, recently, also with new video tutorial series.



Always on the move
Last year ended with the celebration of joining the Plug and Play Japan programme, this year we added 3 more awards and, with crossed fingers, another award in early 2022.

We also ran three editions of our LORIOT Business Connect matchmaking event and 15 LoRaWAN® Solution Provider champions, selected from applications received from all over the world, starred across all three editions with their exceptional solutions.

Given our role in the market, we feel a strong responsibility to contribute to its growth and are very happy to shine the spotlight on companies that have launched fantastic solutions and products. Through our events, we aimed to bridge a connection to our larger partners and customers.