Vit Prajzler is the co-founder of LORIOT. The company was established in December 2015, however, Vit started working with the LoRaWAN® technology over 7 years ago at IBM Research, long before the first standard was published (Version 1.0 of the LoRaWAN specification was released in June 2015). Since then, he has designed and developed a series of globally successful LoRaWAN-based products and solutions, including LORIOT's LoRaWAN product portfolio. Whit such a background, Vit can be considered a LoRaWAN guru and pioneer. No doubt, a very qualified individual to answer the 10 most frequently asked queries about this IoT transmission technology.
Ready? Let's get started!
What is LoRaWAN and what LoRaWAN stands for?
LoRaWAN® stands for "Long Range Wide Area Network". It is networking protocol designed specifically for low-power wide area (LPWA) wireless networks that use LoRa® (short for Long Range, a trademark of Semtech) as their physical layer. LoRaWAN® network architecture is deployed in a star topology where the main elements are (1) battery-operated sensor devices (the end-nodes, the "things") transmitting to (2) one or multiple IP connected LoRaWAN® gateways that will forward the data to (3) the Network Server that makes the data available to run the defined IoT application.
Is LoRaWAN free?
LoRaWAN® specification is an open standard, it is open to anyone, free of charge, and there are no license fees or other fees associated with its usage. There are open-source implementations of the LoRaWAN® stack, both on the device side, and the cloud side. In that sense, LoRaWAN® is free to use. Moreover, since LoRa® usually operates within license-free sub-gigahertz radio bands, this enables anyone the freedom to start a basic LoRaWAN® network.
What is the difference between LoRa and LoRaWAN?
You can use LoRa® without LoRaWAN®, but you would be limited in functionality and features. A protocol like LoRaWAN® is needed to build large networks on top of LoRa®.

In simple terms, LoRa® is the lower physical layer and allows you to exchange information from device to device. LoRaWAN® is the medium access control (MAC) layer protocol but acts mainly as a network layer protocol, it is intended for device-to-infrastracture use and manages communication between LoRaWAN® gateways and end-node devices.
It adds networking, routing, uplink and downlink scheduling for optimized battery usage, and most importantly, security.
How LoRaWAN works
LoRaWAN defines and controls how a device behaves in a large network. It optimizes various radio parameters in order to reach optimal network capacity and reliability.
The main advantages are the long-range coverage (up to 50km in open areas and up to 10Km in urban environments) and the extremely low power consumption ( up to 10 years battery life). These two elements, together with the simple network topology (a star-of-stars topology in which gateways transmit messages between end-devices and a LoRaWAN® network server, the central element and the heart of the network) makes LoRaWAN® networks deployment really easy and basically 'plug and play'.
Who created LoRaWAN
As said, LoRaWAN® uses LoRa®.
LoRa is based on spread spectrum modulation techniques derived from chirp spread spectrum (CSS) technology and was developed by Cycleo a French startup and the inventor of LoRa.

The LoRaWAN® creation started after the acquisition of Cycleo by Semtech for $5 million in cash in March 2012. The first LoRaWAN® specification was created as a joint effort of Semtech, IBM (where I worked at that time), Actility. It was released 3 years later.
Who owns LoRaWAN
The LoRaWAN® specification is developed and maintained by the LoRa Alliance, which is an open association of collaborating members "committed to enabling large scale deployment of Low Power Wide Area Networks (LPWAN) IoT through the development and promotion of the LoRaWAN® open standard". So, one could say LoRaWAN® is owned by the collaborating members, today over 500 worldwide, of the LoRa Alliance.
Who uses LoRaWAN
LoRaWAN® has gained great traction in all narrowband LPWA IoT use-cases. It powers a large number of nationwide networks world-wide, an even larger number of private networks, and there are also large community-operated networks. Private networks are run by all kinds of industries, including logistics, manufacturing, agriculture, and services.

While on the one hand, some existing use cases operating with other technologies such as Wifi or Bluetooth have converted to LoRaWAN® to take advantage of its unquestioned benefits (wide range, deep penetration, low power, ease of installation, high capacity), on the other hand, the LoRaWAN® technology has made possible many new cases of use and has contributed to the spread of IoT globally even in areas of the planet previously excluded from this important innovative wave.
Is LoRaWAN Secure?
The main purpose of LoRaWAN has always been to bring bullet-proof security that will allow devices to run for years without being touched. Its security features were designed to stand the test of time, and are using the state-of-the-art cryptography achievable in embedded environment. A lot of architectural components are very similar to what you can find in cellular networks.
Solutions such as the one we developed at LORIOT add further layers to the already high-security standards offered by the protocol.
When to use LoRaWAN?
LoRaWAN® is an LPWAN protocol.

Its long-range coverage and deep penetration, low-power consumptions, high network capacity and low implementation costs are its main benefits. On the other hand, its bandwidth only allows small data packets.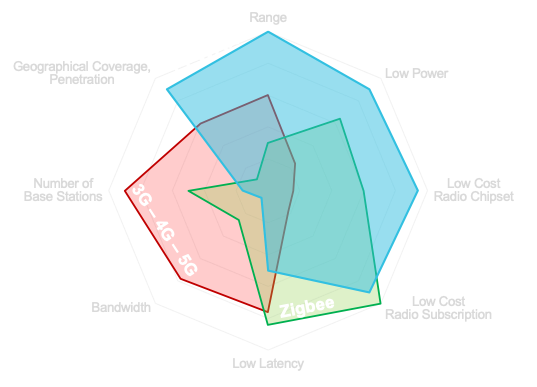 LoRaWAN's characteristics make it suitable for transmitting small payloads - as sensor data typically are - over long distances, especially in areas not reached by other connectivity.
Use cases with these characteristics are numerous and range from smart agriculture, smart city, smart building, industry 4.0, logistics and supply chain solutions to environmental monitoring and wildlife protection.
How to use LoRaWAN
In most countries, you do not need any permission or license to use LoRaWAN®.
You can simply get started in a few steps by getting of-the-shelf LoRaWAN hardware (sensor devices and gateway) and connect them, through a Network Server, to your applications as well as third party data visualization software or IoT platforms.

At LORIOT we offer a free community account designed as a tool for IoT enthusiasts, hobbyists and students but also professionals and companies that want to deploy Proof of Concepts (PoCs) or test our solution. Our global public infrastructure made up by 13 geographically distributed public servers, ensures low-latency, high performance, flexibility and interoperability regardless of the user location.

Give it a try!